To provide transparency and realize synergies, the PanACEA partners have collaborated to implement a plan for capacity development. PanACEA has conducted initial assessment of each proposed site's requirements to attain or maintain ICH-GCP or GCLP standards and to establish recruitment capacity required for the proposed clinical trials. During the annual meetings of the PanACEA Consortium Board, the site PIs have then together developed a consortium-wide strategy and budget for capacity development. Based on the plan developed by the PanACEA Consortium, funds have been allocated to sites, with budgets specified for each capacity-building activity. The PanACEA team has been monitoring on an ongoing basis both the expenditure of allocated funds by the sites and their progress toward achieving their targets.
Major infrastructure upgrades include the following: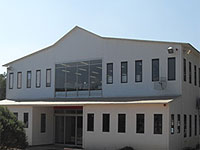 Aurum Institute for Health Research, Tembisa Hospital Site
New facility built using prefabricated buildings
New pharmacy including airconditioners
Energy-saving infra-red elcetric heaters and UV germicidal lights in the participant waiting areas
Fully equipped emergency room
State of the art alarm and access control system
Research lab including bio safety cabinet, centrifuge, -80°C and -20°C freezers, liquid nitrogen storage tanks
Makarere University, Mulago Hospital
The floors and verandahs were done with terrazzo finishing for both wards, and washrooms.
Ceiling boards were removed and a mild steel louvered roof vent was fixed on both sides of the ward.
All doors on the ward were changed. The entrance to the wards (male & female sides) was fixed with flash double doors with a viewing glass and the clinic was fixed with a solid ordinary door with a viewing glass.
An extra room was created on the male side of the ward for the nurses.
Toilet walls were fixed with tiles and an extra toilet was created on the male side of the ward
A wall was built on the toilets on the female side of the ward to prevent outsiders from using the ward washroom.
Windows were fixed with coffee tray and mosquito nets
Mbeya Medical Research Programme
Establishment of EBA (colony count) methodology
Set up of a functioning ward for GCP-compliant studies requiring overnigth admissions
Kilimanjaro Clinical Research Institute
Established BSL 2 and BSL3 labs
Clinical trial unit equipped to support clinical trials
Installation of central server system
Refurbishment of bio-repository
Albert Schweitzer Hospital – Lambarene (HAS-MRU)
Develop laboratory capacity to do MTB culture and sensitivity
A NuAire MSC class II was purchased and installed in 2013 Q2 (May)
Training for Laboratory staff on the operation of the MGIT 960 for MTB culture
Establish a separate TB patients' reception area/room
Negative pressure room still pending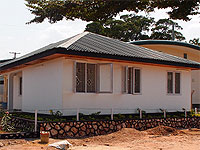 Ifakara Health Institute – Bagamoyo and Mwananyamala
Mwananyamala TB clinic is complete and is fully operational with current TB MAMS study running smoothly. The clinic is equipped with GeneXpert machine, a -80°C freezer, x-ray digitizer and centrifuge machine.
BSL2 is already operational. BSL3 is expected to be complete by the year 2013.
Refurbishment of the TB clinic at the Mwananyamala Hospital in Dar es Salaam